The Tennessean: Executive Q&A

Griggs helps women turn big dreams into success
Women are leaving corporate America in droves and starting businesses at almost three times the rate of men.
A local advertising executive is helping lead the revolution for women entrepreneurs in Nashville through an organization called Ladies Who Launch. Among other things, the group holds intensive incubation workshops for women who need help developing new business ideas or who are thinking of expanding.
Sheilah Griggs, vice president of Point 3 Media, has been executive director of the Nashville chapter of Ladi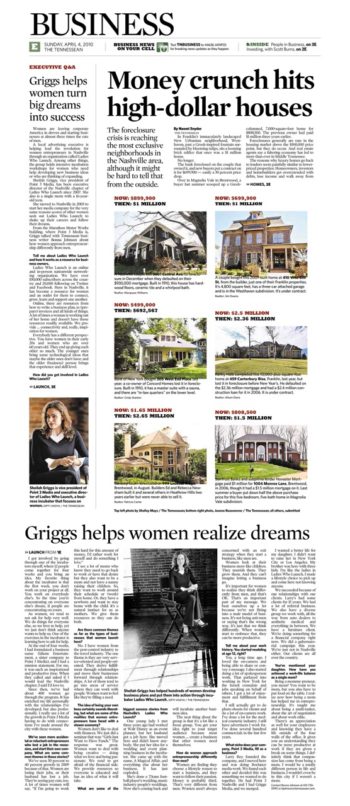 es Who Launch since 2007. She also is a single mom with a teen daughter.
She moved to Nashville in 2003 to start her media company for the very same reasons scores of other women seek out Ladies Who Launch: to shake up their careers and follow their dreams.
From the Marathon Motor Works building, where Point 3 Media is, Griggs talked with Tennessean business writer Bonna Johnson about how women approach entrepreneurship differently from men.
Tell me about Ladies Who Launch and how it works as a resource for business owners.
Ladies Who Launch is an online and in-person nationwide networking organization. We have over 100,000 subscribers across the country and 20,000 following on Twitter and Facebook. Here in Nashville, it has become a resource for women and an outlet for them to connect, grow, learn and support one another.
Online, there are resources from how to write a business plan, to (prepare) invoices and all kinds of things. A lot of times a woman is working out of her home and doesn't have those resources readily available. We provide connectivity and, really, inspiration for women.
Everybody has a different perspective. You have women in their early 20s and women who are over 60 years old. They end up giving each other so much. The younger ones bring some technological ideas that maybe the older ones don't have; and the older (business) person brings that experience and skill level.
How did you get involved in Ladies Who Launch?
I got involved by going through one of the incubators myself, where 12 people come together for four weeks and you bring an idea. My favorite thing about the incubator is that the first week, you don't work on your project at all. You work on everybody else's. So the time you're concentrating on everyone else's dream, 11 people are concentrating on yours.
As women, we tend to not ask for help very well. We do things for everyone else, so we love to help, yet we just don't think anyone wants to help us. One of the exercises in the incubator is learning how to ask for help.
At the end of four weeks, I had formulated a business name (Idiom Entertainment, a sister company to Point 3 Media), and I had a mission statement. For me, it was such an inspirational and productive time. When they called and asked if I would lead the Nashville chapter, I said I'd love to.
Since then, we've had about 400 women go through the program. It has enriched my life personally with the relationships I've developed, but also professionally. I really see a lot of the growth in Point 3 Media having to do with connections I've made around the city with these women.
We've seen more accidental or reluctant entrepreneurs who lost a job in the recession, and start their own company. What are some common themes in those stories?
We've seen 30 percent to 40 percent growth in 2009 because of that. Women are losing their jobs, or their husband has lost a job. They're seeing pay cuts, too. A lot of times women will say, "If I'm going to work this hard for this amount of money, I'd rather work for myself and do something I love."
I see a lot of moms who know they need to go back to work or have that desire but they also want to be a mom and not have a nanny raising their children. So, they want to work around their schedule or (work) from home. Or, they have a newborn and want to stay home with the child. It's a natural instinct for us as mothers. We give them resources so they can do both.
Are there common themes as far as the types of businesses that women launch here?
No. I have women from the pest-control industry to the travel industry. The one theme is they are very service-oriented and people-oriented. They derive fulfillment through relationships and move their businesses forward through relationships. A lot of them tend to go into areas of service where they can work with people. Women want to feel like they're filling a need.
The idea of being your own boss certainly sounds liberating, but what are some of the realities that women entrepreneurs have faced with a slower economy?
Women don't like to deal with finances. We just did a seminar that was: "Girls Just Want to Have Funds." The response was great. Women want to deal with being creative doing what we love and being passionate. We tend to get afraid of the financial side. We provide resources so everyone is educated and has an idea of what it will take.
What are some of the biggest success stories from Nashville's Ladies Who Launch?
One young lady I met three years ago had worked at Walt Disney as an event planner, but her husband got a job here. She moved here and didn't know anybody. She put her idea for a wedding and event planning business in the incubator. She came up with the name, A Magical Affair, and everything else about her business. It has just exploded.
She's done a Titans football player's wedding, music industry people's weddings. Now she's coming back and will incubate another business idea.
The neat thing about the group is that it's a lot like a focus group. You get your idea right to your target audience because most women create a business that other women need themselves.
How do women approach entrepreneurship differently than men?
Women are finding they choose a lifestyle reason to start a business, and they want to follow their passion. Money is probably third. That's very different from men. Women aren't always concerned with an exit strategy when they start a business, like men are.
Women look at their business more like children. They nourish them. They grow them. And they can't imagine letting a business go.
It's important for women to realize they think differently from men, and that's OK. That's an important part of my message. We beat ourselves up a lot because we're not fitting into a male model of business. It's not being anti-men or saying that's the wrong way, it's just that we think differently. When women start to embrace that, they can be more productive.
Tell me about your work history. You started modeling at age 12, right?
Yes, a long time ago. I loved the on-camera and being able to share or convey a message. I also started doing a lot of spokesperson work. That parlayed into working in New York for the Israeli consulate and jobs speaking on behalf of others. I got a lot of enjoyment and fulfillment from that.
I still actually get to do photo shoots for clients and do a lot of on-camera work. I've done a lot for the medical cosmetic industry. I still have advertisers I work for. I've done several hundred commercials in the last few years.
What niche does your company, Point 3 Media, fill as a business?
Larry Roy founded the company, and I moved here and was doing freelance media work. We found each other and decided this was something we wanted to do together. He had Point 3 Nashville and I had Griggs Media, and we merged.
I wanted a better life for my daughter. I didn't want to raise her in New York City or Los Angeles. My brother was here with three kids. I'm like the ladies in Ladies Who Launch. I made a lifestyle choice to pick up and come here not knowing anyone.
We succeeded because of our relationships with our clients. Larry's had some clients for 15 years. We had a lot of referral business. We also have a diverse group we work with, all the way from auto dealers to aesthetic medical and everything in between. We have a furniture client. We're doing something for a financial company right now. We did a gubernatorial campaign this year. We're just not in Nashville either. Our clients are all over the country.
You've mentioned your daughter. How have you achieved a work-life balance as a single mom?
Being a mommy-preneur, you mean? You want to be mom, but you also have to put food on the table. I realize now how being a mom has helped me in entrepreneurship. It's taught me about being a multi-tasker, about the art of negotiation and about work ethic.
There's an appreciation as well for your employees and knowing they have a life outside of the four walls of the office. It gives you an understanding they can be more productive at work if they are given a break on some things. I definitely think that compassion has come from being a mom. I would be a totally different person in life and business. I wouldn't even be in this city if I weren't a mom.
The Tennessean Executive Q&A : Sheilah Griggs
,
Comments Off

on The Tennessean: Executive Q&A