NBJ: Nashville Ad Firm Dives into Texas Politics
Nashville ad firm dives into Texas politics to support hair care giant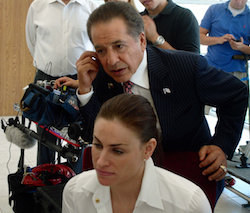 A boutique ad agency operating just outside downtown Nashville is doing its part to help determine who will be the next governor of Texas.
Sheilah Griggs with Point 3 Media is handling media buys for Democratic Texas governor candidate Farouk Shami — the culmination of a relationship that started with hair-care products.
Shami is the president of Farouk Systems, a hair-care company with more than 1,800 products. Beginning more than eight years ago, Point 3 Media handled ad campaigns for the company, though its TV ads went 'dormant' about five years ago. Recently, however, the company decided to renew commercials for its Chi hair iron, for which it turned to Point 3.
Shortly thereafter, when Shami decided he should be Texas' next governor, he again turned to Point 3, co-owned by Larry Roy and Sheilah Griggs. Griggs called it "a very nice compliment to have that client loyalty," especially when it involves an international businessman turning to a Nashville business.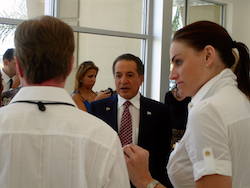 Since coming on board, the two have worked many 15-hour days.
"You're dealing with a very interesting animal," Griggs said, one that requires flexibility and instantaneous responses. "You'll get 12 hours to spend a million dollars of your client's money."
After losing a prime client last year, Point 3 Media is enjoying a strong 2009, with revenue up 600 percent.
The agency declined to give the value of the campaign contract, but the current spend is $600,000. per week and it has thus far handled $1.8 million in advertising purchases for Shami. The contract also will require the agency, currently some nine-people strong, to expand as the May primary approaches.
— Eric Snyder, Nashville Business Journal
,
Comments Off

on NBJ: Nashville Ad Firm Dives into Texas Politics