Nashville Lifestyles Magazine
Single In The City – Introducing Nashville's Most Sensational Singles
Name: Sheilah Griggs Age: It changes everyday.
Occupation: Media Producer, Spokesperson, On-Camera Talent
Divorced? I prefer the term "experienced."
Kids? I have a fabulous daughter, Cameron. who teaches me something new every day. I want to be just like her when I grow up.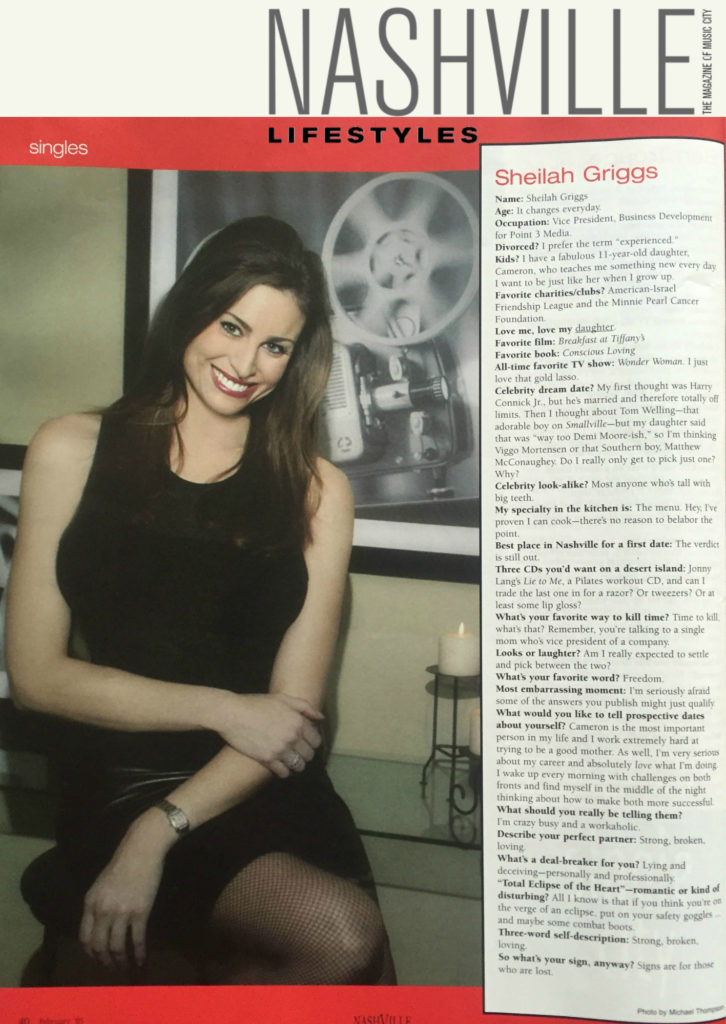 Favorite charities/clubs? American- Israel Friendship League, the Minnie Pearl Cancer Foundation and the YWCA.
Love me, love my daughter.
Favorite film: Breakfast at Tiffany's
Favorite book: Conscious Living
All-time favorite TV show: Wonder Woman. I just love that gold lasso.
Celebrity dream date? My first thought was Harry Connick Jr., but he's married and therefore totally off limits. Then I thought about Tom Welling—that adorable boy on Smallville—but my daughter said that was "way too Demi Moore-ish," so I'm thinking Viggo Mortensen or that Southern boy; Matthew McConaughey. Do I really only get to pick just one? Why?
Celebrity look-alike? Most anyone who's tall with big teeth.
My specialty in the kitchen is: The menu. Hey, I've proven I can cook—there's no reason to belabor the point.
Best place in Nashville for a first date: The verdict is still out.
Three CDs you'd want on a desert island: Jonny Lang's Lie to Me, a Pilates workout CD, and can I trade the last one in for a razor? Or tweezers? Or at least some lip gloss?
What's your favorite way to kill time? Time to kill, what's that? Remember, you're talking to a single mom who runs a company.
Looks or laughter? Am I really expected to settle and pick between the two?
What's your favorite word? Freedom.
Most embarrassing moment: I'm seriously afraid some of the answers you publish might just qualify.
What would you like to tell prospective dates about yourself? Cameron is the most important person in my life and I work extremely hard at trying to be a good mother. As well, I'm very serious about my career and absolutely love what I'm doing. I wake up every morning with challenges on both fronts and find myself in the middle of the night thinking about how to make both more successful.
What should you really be telling them? I'm crazy busy and a workaholic.
Describe your perfect partner: Strong. broken, loving.
What's a deal-breaker for you? Lying and deceiving—personally and professionally.
"Total Eclipse of the Heart"—romantic or kind of disturbing? All I know is that if you think you're on the verge of an eclipse, put on your safety goggles and maybe some combat boots.
Three-word self-description: Strong, broken. loving
So what's your sign, anyway? Signs are for those who are lost.
Nashville Lifestyles Magazine – Single In The City – Sheilah Griggs
,
Comments Off

on Nashville Lifestyles Magazine